To help you plan your next visit to Parkside Farm PYO we have put together this helpful page. We look forward to seeing you soon.
Time-Slots released two days in advance.
Parkside Farm is in Hadley Road, which runs between Chase Farm Hospital on the A 1005 (Enfield Ridgeway) and West Lodge Hotel on the A111 (Cockfosters Road).
The nearest railway station is Gordon Hill which is just over 1 mile away. It is on the Letchworth to Moorgate line, and passes through Finsbury Park, which links up to the tube network. Cockfosters tube station (Piccadilly Line) is about 3 miles away but mini cabs are available.
Entry by Advanced Booking only
How it works…
You buy a Fruit Voucher in advance of your visit @ £4 per adult/child, & select a 15 minute entry time-slot. The value of the voucher will be fully refunded, provided you spend above that amount on PYO produce.            Max. 2 hours picking time.
Simply present your barcoded voucher in printed form (preferred) or on your phone, to gain entry at your allotted time, and again at the tills to receive the refund.
Current Restrictions:  There must be at least 1 adult per 2 x children of 12 or under. 
TOILETS & PICNIC AREA CLOSED FOR SAFETY REASONS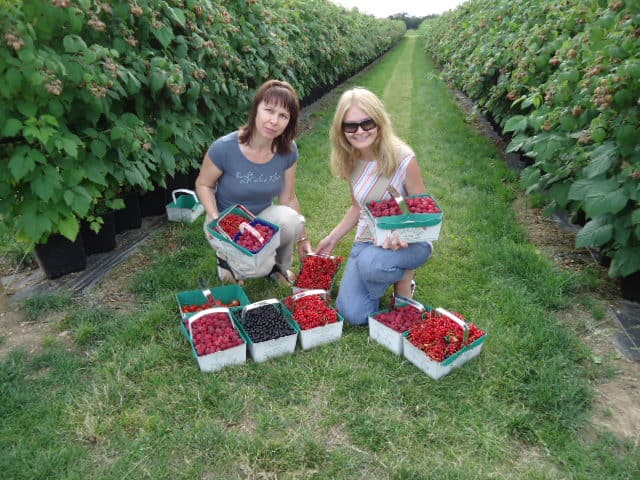 PICK Baskets and bags are provided into which you can pick the produce. Trolleys are also available for those wishing to pick large quantities. The crops are all clearly signposted. We do not allow eating of fruit as you walk around the farm.
WEIGH & PAY The produce is weighed at our tills and you pay, based on the charge per kg of the respective fruit or vegetable. You must pay for all that you have picked so please don`t pick more than you require.
Children must be supervised by an adult at all times, as this is a working farm. Please also ensure that they do not damage our crops.
Dogs – are unfortunately not allowed on site, except for guide dogs, because we are a food premises. Trent Park is ½ mile away and is suitable for dog walking.
Footwear – The ground is uneven in places so please wear suitable footwear.
Face Coverings – must be worn in shop
NB; Please do not leave valuables in your cars. We cannot accept responsibility for any thefts!